MENS WATER-REPELLENT HOODIE & MENS COATED DETACHABLE SHORT
MENS URBAN WATER-REPELLENT HOODIE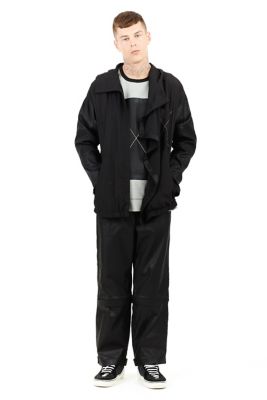 A modern take on the everyday coach jacket, built with a hybrid of lightweight and structured fabrics. The Mens Urban Water-Repellent Hoodie features Terry loop coating and water-repellent finishing with a water-resistant fluid woven. Trimmed with magnetic closures at the center front through the hood enclosure, custom dual cord stopper with bungee casing, tonal patches at the elbows, curved sleeve openings, and 3M stitch print at the check pocket.
MENS URBAN COATED DETACHABLE SHORT
A unique take on the convertible short, structured for the elements, designed for the urbanite. Lightweight terry-loop coating is finished with water-repellent properties and contrast antibacterial denim fabrication. The Mens Urban Coated Detachable Short features a slightly oversized fit with detachable lower knee panels for easy conversion. Trimmed with waterproof zippers with exposed tape and bungee cord stoppers, modern black stitching, oversized belt loops, floating pocket when lower panels are detached, and 3M reflective stitch print at the back pocket.
---